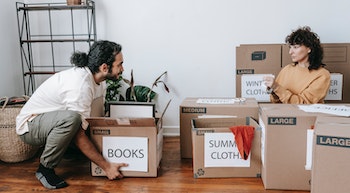 By Julie DeLong, A-1 Freeman Moving Group
Whether you're doing it yourself or hiring a
professional moving company in Colorado Springs
, moving is not just nerve-racking, but costly. Likelihood is conserving a little cash anywhere you can, is more than beneficial. Here are several suggestions which will help lower your expenditures when moving to Colorado Springs.
Decrease Your Belongings
A popular trend today is minimalism: An intentional lifestyle that reduces the number of "objects" within our life. When it comes to moving, shouldn't you help make your fresh start, even more tidy by de-cluttering and downsizing the quantity of things you are moving?
Some frequent examples of things that you could consider eliminating consist of:
· Unwanted clothing
· Out of date products (such as cosmetic products, foods, and so on.)
· Old electronics
· Ruined home furnishings
· Jars and bottles
· Receipts
· Magazines/Papers/Books
· Broken playthings, tools, or any other defective home goods
· Put away collectibles
· Non-working kitchen appliances
Of course, the concept of just trashing a few of these belongings may boost your blood pressure however you do not necessarily need to discard them. You can donate electronics to schools or any other charitable groups. Books could be passed to colleges, your local library, or schools. And because a good number of Americans possess just too many outfits, probabilities are you will not feel awful about contributing a few of the only-worn-once articles of clothing to a neighborhood charitable organization or consignment retailer.
On the other hand, if you have a number of things of value, it is possible to counterbalance some of your moving expenses through having a garage/yard sale. It will not only decrease the items you will have to move, but you will feel a lot better knowing you're genuinely starting clean inside your new location.
Drive Your Own Automobile
Having a moving company in Colorado Springs move your automobile could be an avoidable cost for you. If you choose, rather, to drive your own car or truck, it comes along with a few bonuses. Firstly, you are able to carry a load of several of your more valuable things which are probably not great for a moving truck including plants as well as other personal belongings. Second of all, driving to your new location permits you to view the landscape and get to know the vicinity you're relocating to.
Obviously, driving your personal car most likely is not the most viable selection in every scenario (including if there's more than one car, for example) in which case, it is critical to find a moving company who's experienced with these kinds of moves.
Pack a Few Things Yourself
Depending on whether you are conducting a local or long-distance move and how much stuff you have, the cost of packing will vary. It is possible to substantially reduce the cost of your relocation with packing several of your things by yourself.
We suggest having a first-day box loaded with essentials you should have for your new residence, the very first day you arrive. This is something you need to pack for yourself as you know best, the things you will most need that initial night in your new home.
Other stuff you can consider packing include:
· Bath towels/Bed sheets
· Pillows
· Books
· Dishes
· Garments
· Toiletries
· Cleaning supplies
· Pet necessities
· Toys
· Knick-Knacks
When packing your personal things, you'll want to have quality containers, strong tape, and a marker to put in writing the items in the boxes so you know which room they should be in. Most moving companies in Colorado Springs offer various tiers of packing service, so be sure and talk with your mover to work out which level will best fit your needs and also your funds.
Mind the Time
Did you know that professional movers generally request different prices based on the time of year? It is true, throughout their busy season, May through August, a peak season upcharge is applied. Obviously, the time of the year you move, isn't always anything you can pick for various points but when you are able, take into consideration a move over the slower seasons - from September through April - while demand is normally smallest.
Moving can be an exceptional time and conserving money on the expenditures is just one approach to allow it to be better still. If you would like to get more information regarding A-1 Freeman Moving Group's moving services in Colorado Springs, reach out to us now to learn more on how we could help you get to wherever you are heading.
Request a free quote