Your Professional Commercial Moving & Office Relocation in Colorado Springs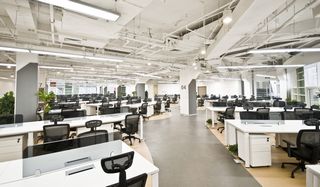 A-1 Freeman Moving Group consistently provides professional, high-quality office relocation services that accommodate the needs of each & every customer of ours, regardless of the size or extent of their move. And high on the list of needs is ensuring that our services have companies back up and operating quickly, with as minimal an amount of business interference as humanly possible and no real loss in productivity or profitability. You can be sure we'll handle your move the same way.
To ensure that every stage of your office relocation goes as efficiently as possible, we assign you a personal Project Manager as a matter of course. He or she is an experienced member of our team who's here to deal with any questions or concerns you have while your move is underway. Additionally, your Project Manager will work with you in creating the perfect moving plan to fit your needs, help coordinate logistics, and supervise the rest of the A-1 Freeman Moving Group crews during the move. We also provide support services at your new office destination, because our team knows that a move isn't over once your furniture and equipment are unloaded.
In custom-developing a moving plan specifically for your needs, we consider a broad range of amenities, from fundamental relocation services to installation to records management and so much more in between. Our essential office relocation services cover ...
Facilities Moving,
Records and File Moving,
Modular Furniture Tear-Down and Setup,
Numerous Storage Options,
Records Storage,
IT and Server Relocation.
To get further facts concerning our comprehensive office relocation services, or to get started on your next move, call A-1 Freeman Moving Group today! One of our friendly, savvy representatives will be happy to help. You can also, without obligation ...
Request a free quote